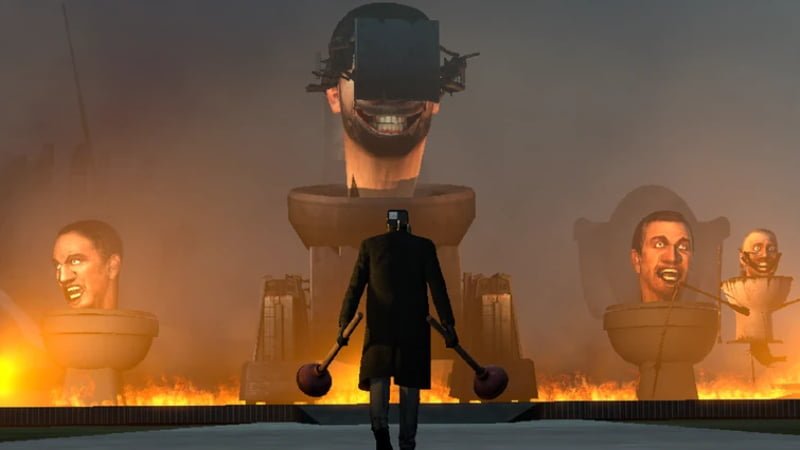 In the surreal realm of Skibidi Toilets, where cameramen navigate through the chaos, a distinct variant emerges—the Black Cameraman. This enigmatic counterpart to the standard Cameraman introduces a captivating twist with its dark aesthetics and intriguing combat capabilities.
This article delves into the world of the Black Cameraman, exploring their appearance, combat prowess, notable appearances, and the tantalizing mysteries that surround their existence.
The Allure of Darkness
The Black Cameraman, a variant of the Normal Cameraman, veers away from the conventional with a black CCTV camera as its distinguishing feature. Clad in a suit with a coat akin to their counterparts, what sets them apart is their black skin, creating an aura of mystery and distinction.
The first appearance of this elusive type was in Episode 8, standing alongside other Normal Cameramen, marking the inception of their cryptic journey.
Combat Prowess and Abilities
Speculation surrounds the Black Cameraman's combat capabilities, hinting at heightened strength compared to the average Cameraman. Episode 43 provides a glimpse of their potential as they purportedly faced off against Glass Skibidi Toilets and emerged victorious.
However, the true spectacle unfolds in Episode 48, where a Black Cameraman showcased exceptional skills. In a fraction of the time it took the Scientist Cameraman to deal with one Glass Skibidi Toilet and disinfect a Large Cameraman, the Black Cameraman triumphantly dispatched six Glass Skibidi Toilets using their unique weapons — two plungers.
Masters of bojutsu, the Black Cameramen employ plungers, essentially sticks with suction cups, as their primary weapons. Notably, the Plungerman, a specific Black Cameraman, exhibits enhanced strength, setting them apart from their counterparts.
However, distinctions in abilities among Black Cameramen suggest a varied skill set within this mysterious species. Additionally, their proficiency extends to the art of luring Skibidi Toilets into traps, capitalizing on their unique dance that inexplicably captivates these peculiar adversaries.
Appearances Across the Skibidi Universe
The Black Cameraman has left its mark on various episodes, popping up in different scenarios:
Skibidi Toilet 2 (full screen version)
Skibidi Toilet 8
Skibidi Toilet 9 – 11
Skibidi Toilet 14
Skibidi Toilet 15
Skibidi Toilet 18, 19
Skibidi Toilet 21
Skibidi Toilet 24, 26
Skibidi Toilet 35
Skibidi Toilet 39, 40
Skibidi Toilet 43
Skibidi Toilet 45
Skibidi Toilet 48, 50
Skibidi Toilet 51 – 53
Skibidi Toilet 55
Skibidi Toilet 57
Skibidi Toilet 63
Puzzling Trivia and Theories
The Black Cameraman, while a consistent presence, introduces intriguing mysteries:
Despite their appearances throughout the series, Black Cameramen, other than Plungerman, have seemingly ceased to be seen. Speculation suggests varying skill levels among these entities, possibly leading to their demise at the hands of Skibidi Toilets.
The prevailing theory revolves around the Black Cameraman's above-average fighting capability and strength, highlighted in Episode 48's remarkable takedown of six Glass Skibidi Toilets.
A captivating moment in Season 1's full-screen version adds a touch of whimsy, with a Black Cameraman spotted dancing, showcasing a lighter side to their enigmatic nature.
In conclusion, the Black Cameraman emerges as a shadowy figure within the Skibidi Toilet universe, marked by its dark allure and impressive combat prowess. As the mysteries surrounding their existence continue to unfold, their role in the ongoing battle against the eccentric adversaries adds a layer of complexity to the evolving narrative.
The Black Cameraman remains an intriguing enigma, a testament to the unpredictable nature of this fantastical realm.